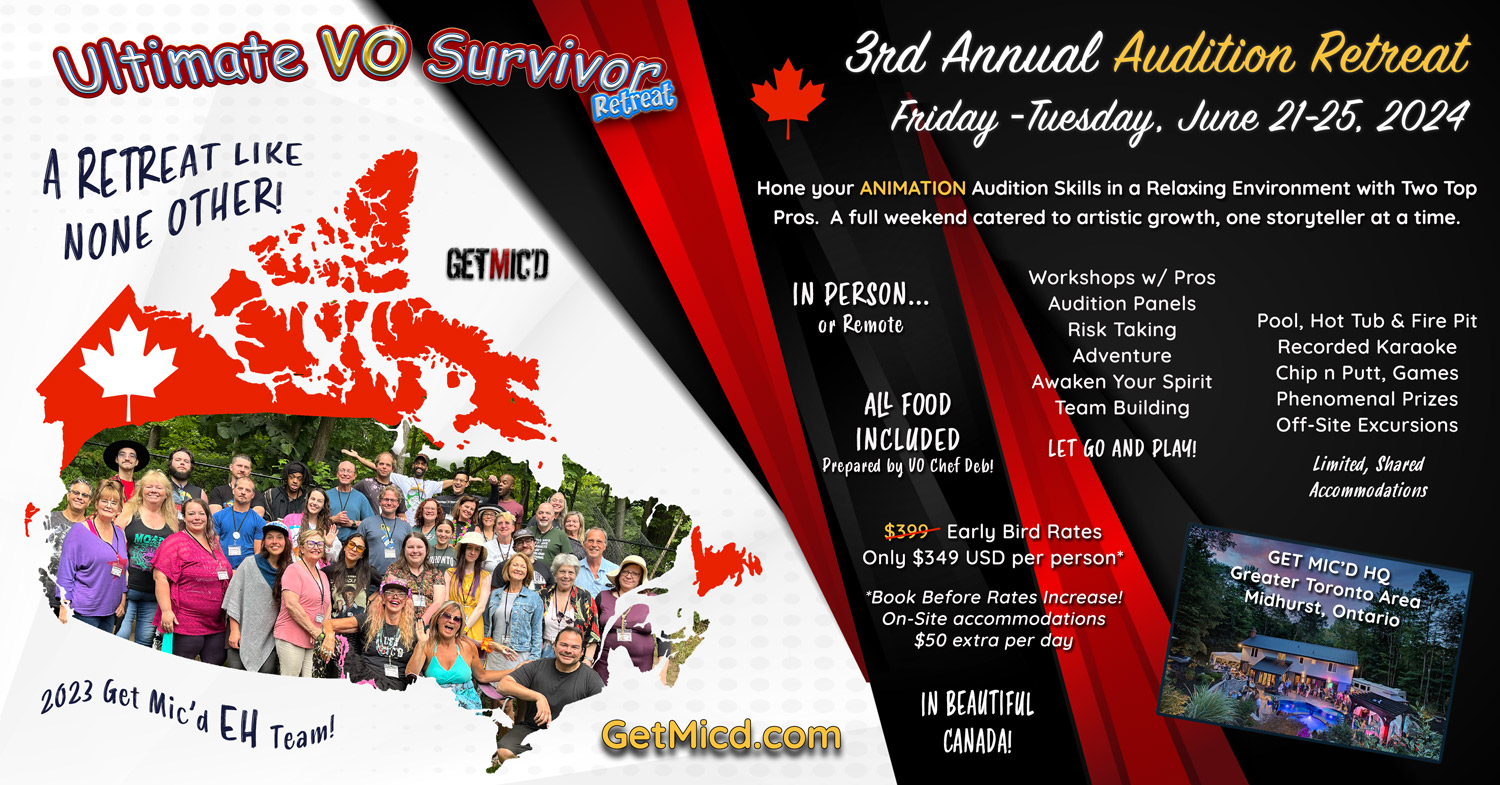 UVOS RETREAT 3
IN-PERSON AUDITION WEEKEND, WITH A FOCUS ON ANIMATION
Friday, June 21 through Monday, June 24, 2024 (departing June 25)
Stay Onsite (Shared Accommodations) or at a Local Hotel
BOOK EARLY for DISCOUNTED RATES / LIMITED AVAILABILITY!
We'll post details for the next Retreat soon!


In the meantime, find out what it's all about by reviewing info for the 2023 event below.
What is the Ultimate VO Survivor – Weekend Retreat?
An in-person Voice Acting Competition and a chance to meet and work with some of our UVOS judges for an ENTIRE WEEKEND. (Friday-Monday)
Come fly to Canada and meet Elley, Deb and their zany crew in an intimate setting at
Get Mic'd Headquarters in the forested private Spa Oasis in Midhurst, Ontario.
Throughout the weekend you will compete in a friendly, relaxed, in-person Ultimate VO Survivor Competition,
working with some top A-List talent judges as they put your VO skills to the test. Workshops, panels, audition training,
plus Some incredible prizes are up for grabs! OPEN TO ALL!!! (accommodation's SOLD OUT – ONLY 2 tenting sites available on site left (if you bring your own tenting gear we will make room for you – (hotel/airbnb/Wasaga Cabins still available – Selling Fast limited ONLY 10 spots left for retreat)
Ticket Packages
When and where is it?
When:
Friday, September 8th (Activities begin in the evening) – Monday, September 11th
(extensions til Tuesday Welcome)
When and where is it?
Where:
Midhurst, Ontario, Canada
Address will be provided upon registration
(Get Mic'd Headquarters)